Managing Soon-to-Expire Passwords
Monitoring Soon-to-Expire Passwords and Emailing them a Reminder
In order to avoid urgent tickets, emails or even phone calls from stressed users, we recommend that you frequently monitor the passwords which will soon expire.
With AD Unlocker Pro, this preventive action is really easy to do: just click on the "Soon-to-Expire Passwords" button at the bottom of AD Unlocker Pro main window.
It will display the window shown below: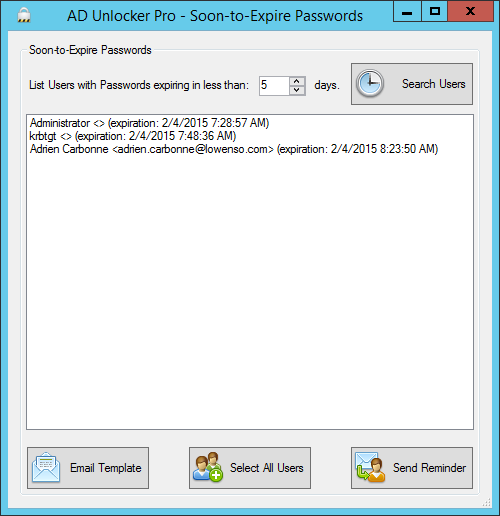 Choose the number of days before expiry you want, then click on the "Search Users" button.
Please note that depending on your Active Directory size, this action can take a while.
You will soon get the list of all the users having password expiring soon.
You can select all the users in the list, or choose them one by one. Once you selection is done, just click on the "Send Reminder" button to send a standard reminder to their Active Directory configured email address.
Modifying the Reminder Email Template
You can modify the email template that will be used when sending those reminders.
To do so, click on "Email Template" button. The following window will be displayed: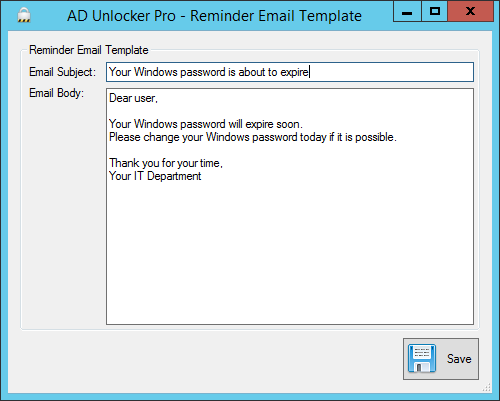 You can now modify the subject and message of the reminder, then click on the "Save" button to save your changes.
Email Sending Settings
Please refer to our Settings documentation to know how to configure SMTP settings, as well as the reminder email sender.