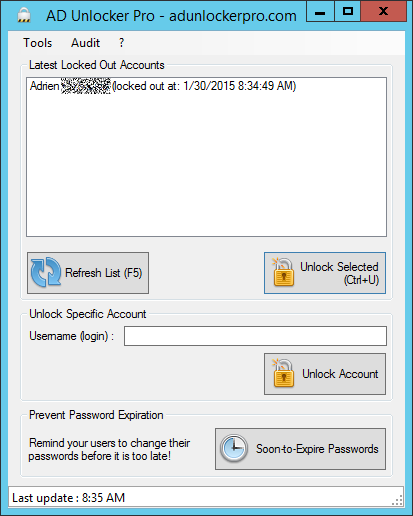 AD Unlocker Pro: Easy-to-use, plug-and-play solution for managing locked out users in your Active Directory and soon-to-expire passwords
AD Unlocker Pro allows every IT Pro and Microsoft Windows Server System Administrator to manage locked out users.
In its latest version, it also helps them to prevent helpdesk tickets/calls by reminding users when their Windows password is about to expire.
- Cleaner and easy-to-use interface
- Alternative Active Directory login
- Automatic refresh of the locked out accounts list
- Soon-to-Expire Passwords list
- Customizable Reminder Email
- Auditing of every action for compliance with your Corporate policy
Do not hesitate to
download our free trial version
,
or learn more about
AD Unlocker Pro features
.